Just My Type
Portland, Maine's The Press Hotel honors the golden age of print in every room with details inspired by a 1920s newsroom.
On a corner of the historic Old Port neighborhood in Portland stands the Gannett Building, which dates back to 1923 and once housed the offices and presses of the Portland Press Herald, Maine's largest newspaper. With the opening of The Press Hotel, the building's former incarnation is still imprinted in the hotel's design details.
The interiors of The Press Hotel honor the golden age of print, from the installation behind the front desk referencing blocks of letterpress type to the collection of vintage typewriters adorned across the lobby wall. 
The 110 guest rooms are styled with a 1920s newshound in mind, furnished with oversized writer's desks, and slick black reporter's notebooks to jot down inspirations, just as Herald stringers would have crafted their stories on approaching hurricanes or a record lobster catch. 
Even the privacy signs come with a literary flourish, quoting Joni Mitchell: "My goal as a writer is more to comfort than to disturb." The story continues in the hallways, which are wallpapered with a collage of actual headlines pulled from old front pages of the Herald, with extraneous letters playfully spilling onto the carpets, while the scale once used for weighing the huge reams of newsprint has found an appropriate new home in the fitness center. 
The Herald's city room has been transformed into the popular Inkwell Bar, where barkeeps mix classic cocktails such as the Machias Pimm's and Old Fashioneds, while the executive chef is making a splash cooking up New England farm-to-table cuisine at the UNION restaurant.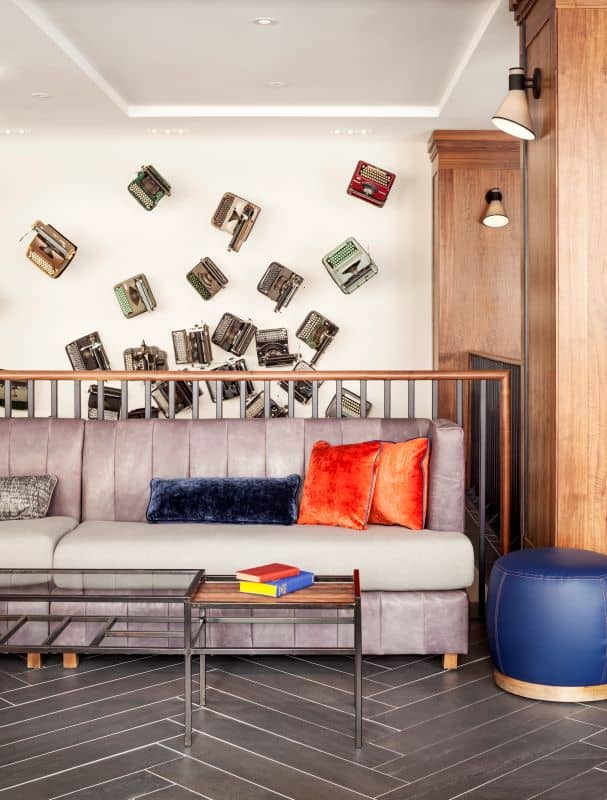 The journalists and editors of this formidable building may be gone, but The Press Hotel is writing its own story in the historic Old Port neighborhood, itself in the midst of a culinary, cultural, and commercial rebirth.